How Often Should You Change Your Oil?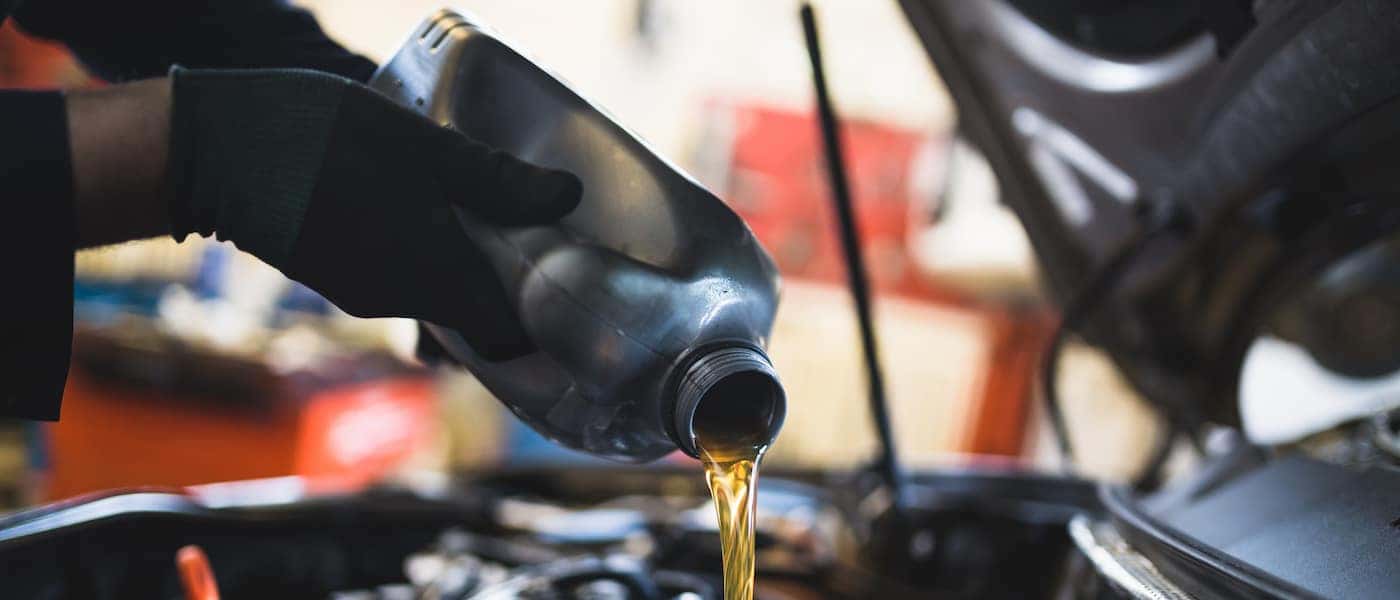 Changing your oil regularly ensures your vehicle runs smoothly. It used to be that oil changes should be done every 3,000 miles, but with advances in oil and engine technology, the recommended time frame has extended. Today, most vehicles typically go between 7,500 and 10,000 miles between oil changes. Refer to your owner's manual for more information about how often you should change your oil.
Oil Change Frequency Guidelines
7,000 to 10,000 miles is a broad guideline, but some vehicles need their oil changed sooner. If these apply to you, visit Cable Dahmer Auto Group near Lee's Summit to see how soon you should bring in your vehicle:
Commercial use
Heavy towing
Off-roading
Racing
More Oil Change Tips
Before making the trip to our Independence-area service center, check these facts about oil changes. Have questions? Contact our service center online or by phone at .
Oil breaks down over time, even when you don't use your car. It's essential that you are getting an oil change at least twice a year.
Whenever you get your oil changed, they should replace the oil filter as well. Visit the parts department at Cable Dahmer Auto Group for an oil filter if you're doing a DIY oil change.
Wondering whether to use synthetic vs. conventional oil? Refer to your owner's manual. Synthetic oil can cost more, but some vehicles require it.
How Often Should I Check My Oil Level?
It's best to check your oil level at least once a month. Doing this will make sure you are catching any leaks in the oil system. Without oil, your vehicle can become seriously damaged. Make sure you're checking for any changes to your oil's color, as well as the appearance of any metal particles in the oil. Spotting those could be signs of serious problems. If you notice any issues, schedule a service appointment with Cable Dahmer Auto Group!
Have Your Oil Changed at Cable Dahmer Auto Group
Make sure your vehicle is running in top shape by having routine maintenance like an oil change performed. Cable Dahmer Auto Group offers low prices on oil changes, as well as service coupons for our most popular maintenance and repair tasks. Contact us today with any questions about the Buick Enclave gas mileage, our AWD Kia models, our services, and more!
Learn More at Cable Dahmer Auto Group
Many Lee's Summit and Independence drivers are impressed by the strong engine options, drive systems, and more that contribute to the efficient 2019 Buick Enclave gas mileage. Explore the performance features with us at %%di_name% today when you make your way to Kansas City for a test drive. Browse InventoryContact Us 2019 Buick Enclave MPG Ratings The…

Yes! The 2019 Buick Enclave has jaw-dropping towing capabilities, so if you need a full-size SUV that lets you hook up a trailer or camper, Cable Dahmer Auto Group has you covered! Stop by today to explore the newest Enclave and its towing capabilities. View Inventory Contact Us Buick Enclave Towing The Buick Enclave towing capacity is 1,500…

The safety features of the 2019 Chevrolet Equinox will give you an added peace of mind on Kansas City roads. Check out the standard and available safety features on this new model at Cable Dahmer Auto Group. When you're ready, contact us to explore the Equinox's safety features in person. New Vehicle Specials Schedule a Test Drive Chevy…