Which Kia Models Have All-Wheel Drive?

For Lee's Summit and Independence drivers looking for a vehicle that provides better handling during rough road conditions or less than perfect weather, check out the Kia AWD models. Find out more about which new Kia vehicles have all-wheel drive and more when you contact Cable Dahmer Auto Group today then get behind the wheel of your favorite!
---
---
Kia AWD SUVs and Crossovers
Kia Sportage: The Kia Sportage offers an available AWD option on any trim. In addition to AWD, this Kia SUV was named a Top Safety Pick by the Insurance Institute for Highway Safety.
Kia Sorento: The Kia Sorento also offers AWD on every trim. Independence drivers looking for a spacious family car will enjoy the ability to seat up to 7 passengers, with the 2018 model providing available third-row seating and the 2019 Sorento delivering standard third-row seating.
Kia AWD Cars
While in previous years the Sorento and Sportage were the only two Kia models with all-wheel drive, Kia now offers the Kia Stinger with available AWD. This makes the Stinger the first Kia AWD sedan in the lineup. This Kia AWD car delivers strong performance all around and generates up to a whopping 365 hp!
What are the Benefits of Kia All-Wheel Drive?
Driving an AWD Kia model not only provides peace of mind on any Blue Springs adventure, but there are plenty more benefits to driving a Kia vehicle with all-wheel drive. These benefits include:
Better Traction: AWD vehicles can make driving in harsh weather conditions safer. Since AWD vehicles have better traction, they are less likely to glide on roads that are slippery due to rain or snow.
Off-Road Capability: Having an AWD model makes off-roading excursions safer, however, it's important to note that simply because a vehicle has AWD doesn't mean it's properly suited for off-roading. You should also consider the durability of the brakes, acceleration, suspension, and a few other aspects of the vehicle.
Resale Value: Because an all-wheel-drive Kia costs more up front, and is more capable, you will have an easier time selling, if you choose to do so at any point, and should not have to worry about resale value if and when the time comes.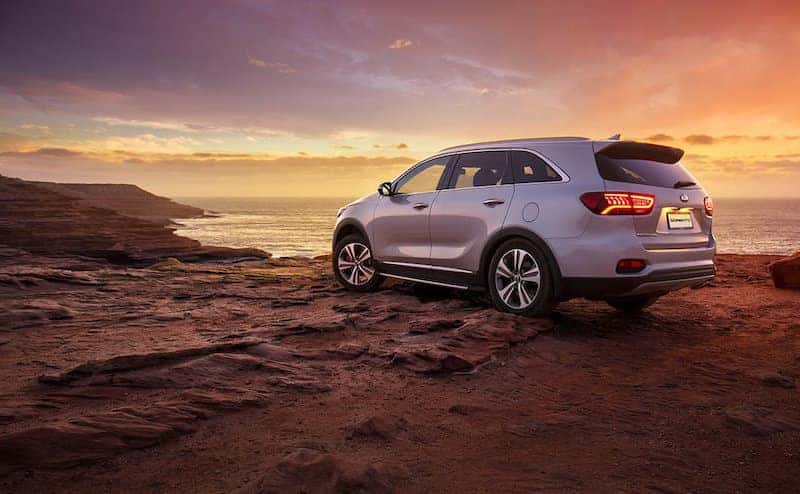 Browse Kia AWD Models in Kansas City
Whether you're looking to learn more about our Kia models with all-wheel drive, you want to know how AWD compares to 4WD, want to learn about who owns GMC, or you want to know the difference between used and CPO vehicles, contact Cable Dahmer Auto Group, your local dealer. We can also help you browse our inventory, new vehicle specials, and more to get you behind the wheel of your favorite Kia.